Final Reporting
FORESIGHT is grateful to the more than 7,500 people who joined together for a conversation about the future of health and well-being. The materials below share data and insights from FORESIGHT's large-scale resident engagement activities and Phase 1 evaluation process.
If you have questions or feedback on any of these materials please reach out to us at [email protected].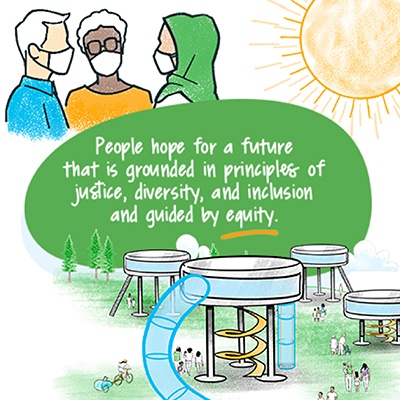 Opens in new tab. Click to enlarge.
Resident Engagement
In 2020 FORESIGHT spoke with more than 7,500 Americans – with a focus on those who experience the greatest inequities – about their hopes and aspirations for the future of health and well-being.
Evaluation
FORESIGHT conducted an evaluation in partnership with external evaluator Anne Jin Soo Preston to uncover learning and insight from FORESIGHT's inclusive process.
The world is changing fast. It's time we design a future for health together.
Our work begins with FORESIGHT.